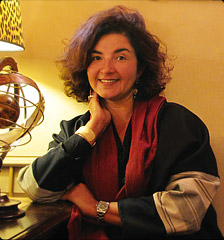 LINDA SFORZA
Working as a travel professional for 20 years, Linda Sforza has always specialized in creating exceptional, high quality travel experiences for her clients, in the past working as operations manager for major Italian Incentive travel houses, and now with her new venture Souvenir d'Italie.
Starting out with a degree in languages and a passion for exploring the world, she has travelled extensively all around the globe. She has also lived and worked in foreign countries, including Great Britain and Spain, and has experienced the unique pleasure of stepping outside her own culture and becoming part of another.
This is an experience that she savored and is dedicated to providing for her clients, a chance to explore one of the wonders of the world, Italy, with its infinitely rich heritage of art, culture and beauty. At Souvenir d'Italie she has gathered together a team of travel experts as hardworking and enthusiastic as herself, with a mission to give clients the authentic taste of Italy they have always dreamed of. Linda Sforza has an intimate knowledge of Italy – including its undiscovered treasures – an ability to listen to clients, to understand exactly what they want and to invent a perfect, tailor made vacation. All this combined with her untiring efficiency and attention to detail means that for Souvenir d'Italie's clients their stay in Italy will be truly an unforgettable experience.